With the world Pandemic and spreading of Coronavirus, it's easy to feel out of control anytime we face the uncertainty and unknown. It's distracting and depleting. But it is also an opportunity to strengthen our resilience muscle.
IT IS TIME TO STRENGTHEN OUR RESILIENCE MUSCLE
2020 is a year we will never forget!
We had plans, dreams, and goals to achieve when suddenly all got put on hold and the anxiety kicked us. A new contagious virus, uncertainties of what comes next, cancelation of trips, work from home, quarantine, some of us lost our jobs, and even worse, had to face our families and friends getting contaminated. We have all the reasons to feel anxious.
But here are six ways to navigate the current climate with resilience:
Address your feelings
Empathize and be a responsible traveler 
Control what you can: Your Mind
Take care of your body and health
Be positive and practice gratitude
1- Adress your feelings
Yes, I am stressed too.
For many years I worked in the Pharma and Biopharma industry, and I helped to make a difference in people's life with drugs and vaccines. In January 2020, I decided to follow my heart and start my travel business helping people to go on journeys around our planet.  It would be ironic if it was not a very stressful time for me.
In times like this, it is very easy to make a decision based on anxiety or to feel depressed questioning yourself, "What am I doing with my life?"
But take a moment to think about what really scares you about the Coronavirus. Is it getting sick? Seeing your loved ones get sick? Is it being hit financially? Being confined in your house for weeks without knowing what comes next?
As humans, we are hard-wired to scan for potential threats, and the Coronavirus has been framed as a big one. Now it is time to arm yourself with facts, this is a real threat, but our natural fears make it much worse.
While caution is important, extreme panic will undermine your mental health. Make sure you worry according to probability and adjust your behaviors to gain some sense of control without panicking.
2 – Empathize and be responsible traveler
I had an awesome trip to India which was also an amazing opportunity for my very first Press Trip.
Right after my trip to India, I had a family trip to Germany planned. I only get to see my family who lives in Brazil once a year and I was extremely happy and counting the days to hug them and spend an incredible vacation with the ones I love.
I chose to be responsible and unselfish and I canceled all my upcoming traveling.
This is a very difficult time for my brand new tiny travel business and also not being able to see my loved ones.
Financially a lot of us are feeling vulnerable, and creatively, it aches to consider visions I have poured my heart and soul into not coming to life.
I also feel terribly sorry for the small and big businesses –  the airline's companies, tour operators, hotels, taxi drivers, owners of restaurants and shops – I empathize with all of us that rely on the travel industry for income, and also, having to cancel our business trip or dream vacation with our loved ones.
But it is not about me. It is not about my desires. It is about all of us, the ones around us, it is about our society.
But it is necessary. Please stop traveling, at least for a while. 
When everything is over, the Taj Mahal, the Coliseum, the Eiffel Tower, Phi Phi Island, and Christ the Redeemer will all still be there waiting for your visit.
You have a chance to make a difference and stop the spread in your country, and avoiding traveling at this time which is the smarter thing to do.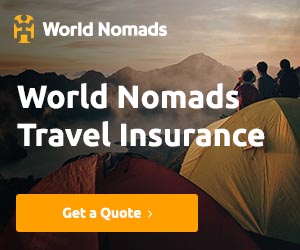 3 – Control what you can: Your mind!
We are witnessing history, and the most important thing is to focus on what you CAN control. Moving forward is what humanity is good at after all.
We all have our own reasons to feel stress, sadness, fear, panic, confusion, anger, anxiety, or even worse, all the feelings at the same time.
The bad news is that they are not good feelings to feel and they reflect negatively on our bodies and especially our minds.
But the good news is that those feelings are normal in times of stress, and we can learn how to control it. Many of the physical illness starts with an unhealthy mind. Our mind is incredibly powerful.
Taking the time from being in public, moving to a home office, and canceling social events to stay at home are actions you can take which are positive. But staying at home watching the news and reading people panicking on social media is not going to help you.
Opt to surround yourself with things that keep you calm. Read a book, go for a walk, watch a movie, listen to a calm song while you work from a home office are some of the choices you can make to help to calm down your mind.
4 – Take care of your health
Stress affects our mood, but it also affects our physical health.
Now is the perfect time to promote health and to prevent illness. A lot of physical disease starts from an unhealthy mind. Now is the time to manage it.
Get plenty of rest and take regular work breaks
Keep hydrated
Make sure to eat healthfully
Building a resilient immune system will also help you feel more in control. After all, the risks of suffering from stress and burnout are higher than Coronavirus
Exercise – Go for a walk, practice yoga, take your dog for a walk, play with your kids or dance like no one is watching you. Keep moving, it is good for your body and your mind
Don't rely on cigarettes, alcohol, or medication to try to remain calm. They may work for a very short time but will cause negative effects long term which is not a good solution for your body
In case of physical or mental emergency, go see your doctor or therapist
The most important, let's repeat the Mantra again: Wash your hands, use hand sanitizer, cough inside your elbow and if you feel sick, contact your doctor and avoid contact with others
Check these 7 simple steps to protect yourself and others from COVID-19 
5 – Be positive and practice gratitude
We should NOT panic at this moment, but at the same time, I don't think we should live in denial.
I have no idea how many times I heard things like  "it is just the flu" or "It only affects old people with preconditions".
I think that by this point we all have seen and heard enough to believe it is not only media fantasy or a conspiracy. It is real, it is a Pandemic!
There are 2 reasons why Coronavirus has brought some countries to their knees. First, it is a form of flu that is devastating when people get really sick and they need weeks of ICU – and, second, because of how fast and effectively it spreads. There is a 2-week incubation period and many who have it never show symptoms until later.
Coronavirus is a new threat and coping with new threats requires strength and energy.
As the travel expert Stephanie mentions in this great article "By using immune booster supplements, staying positive, protecting others and helping to keep their spirits up, you'll help make the Coronavirus quickly become just a bad memory."
Give yourself some credit and remember to end each day with a measure of gratitude that you successfully navigated the world around you, and let this positivity build on itself.
You have the power to care for your physical and mental health; don't let anxiety control your well-being.
OVERVIEW ON HOW TO REMAIN CALM DURING STRESSFUL TIME
First of all, start by taking a deep breath and try to identify what you are feeling at this moment – Face and feel these feelings, then as a second step take action towards controlling it.
Be a responsible traveler: Stay at home now, wherever home is for you.
Be Mindful and aware of what is happening around you – Find a reliable source of information such as WHO or a public health body of your country: Ministry of Health. As President Obama once said, "Stay calm and listen to the experts"
Take Precautions: Wash your hands with soap for at least 20 sec. Use hand sanitizer. Cough and sneeze into your elbow. Do not touch your face. Practice social distance. If you're worried about vulnerable friends and family, such as the elderly, put a plan in place to check in regularly. Adjusting behaviors will help you regain a sense of empowerment instead of allowing the latest headlines to dictate your actions and emotions.
Empathize with others: Avoid exaggerations and be supportive of people contaminated with the virus.
Control your mind: Practice meditation and spend some time with the quietness, paying attention to your breathing. It works wonders to calm down our minds.
Take care of your health: Eat healthy, drink plenty of water, practice yoga, go for a walk.
Make smarter choices: Like everything else in life, it is a matter of choice – My choice, your choice! Be the one who will inspire others around you! We are ALL IN THIS TOGETHER!
Embrace Generosity:  The finite mindset of opportunism, selfishness and panic will hurt all of us in the long run. Keep a selflessness and a calm caution as we navigate this together.
Don't Panic by the Authorities Precautions: It is scary to watch everything closing and getting canceled, seeing empty streets or empty stadiums. But all of these actions are necessary at this moment in order to reduce the viral transmission. At this moment, love and care looks like an empty Coliseum.
People with purpose, goals, and visions have no time for drama. They invest their energy in creativity and focus on living a positive life.
RELATED POSTS
PAULA PINS THE PLANET…YOU CAN PIN THIS POST!
GET IN TOUCH
I would love to hear from you. If you have any questions about the destinations, the blogs or suggestions for improvements, leave any comments on my blog posts and I always reply to comments. Follow me on Social Media and Subscribe below to get monthly updates directly to your inbox.
Please note: Some of the links on this post are affiliate links. If you choose to purchase using these links, I receive a very small commission at no extra cost to you. Please note that using these affiliate links, you are directly supporting Paula to continue to Pins the Planet, and any running cost of this site, and my ability to provide you with free awesome content on travel and a healthy lifestyle. Thank you very much!