Nepal Travel Guide to Plan your Trip to Nepal
This Nepal Travel Guide is a one-stop guide for you to plan a perfect trip to Nepal.
In this Nepal Travel Guide, you will find all you need, from how to travel around Nepal, how to stay safe, the best places to visit in Nepal, how much it costs to travel to Nepal, what is the best time to visit, and finding best accommodations & transportation options.
I spent 30 days in Nepal and I have learned a lot during my trip – and now I bring to you all you need to know for planning your trip to Nepal and how to travel safely.
This picturesque country has a lot to explore. Nepal offers treasures such as Everest, the tallest mountain on our planet, the house of the living Goddess Kumari, and Lumbini, the birthplace of Lord Buddha Shakyamuni.
If you are looking to explore the outdoors and love to immerse yourself in nature, Nepal is the perfect place to visit.
It is home to eight of the highest peaks in the world. Nepal also holds many World Heritage sites, has a strong history, culture, and religious influence, offering a great variety of options of things to do and see – Don't forget to check this guide about 30 Things to Know Before your Trip to Nepal.
Enjoy this Nepal Travel Guide and I hope you can find all you need to plan your trip to Nepal.
Nepal travel guide Essentials
LANGUAGE: There are 123 languages spoken in Nepal, and the most spoken in Nepali. You will find that in the touristy areas and the guides speak English.
CURRENCY: The currency in Nepal is the Nepalese Rupees – Click here for the daily conversion rate. You won't be able to exchange Nepalese rupees outside Nepal.
TIPPING: It is not customary to tip in Nepal. But note that trekking in Nepal has a tipping culture and they expect you to tip the guides and porter. Read more about All you need to know about hiring a porter in Nepal.
CREDIT CARD & ATMs: You can find ATMs in major cities – Kathmandu and Pokhara. I found it was easier to withdraw money from the ATM. If you are hiking and visiting rural areas, you won't have access to ATM. You can pay for hotels, nicer restaurants, and shops in tourist areas with a credit card.
PLUGS: The standard voltage in Nepal is 230 V and the standard frequency is 50 Hz. The plugs in Nepal are plug styles C.D & M. I recommend buying a universal adapter and using a converter for hair dryers.
NOTE: Power OUtages are very common around Nepal. You can be prepared with a power bank like this Anker Portable Charger as it holds 7 charges at once.
Wi-Fi IN NEPAL: You will find that in most hotels you will have access to decent Wi-Fi. But don't expect to have internet access during your hiking in Nepal.
LOCAL SIM CARDS: Getting a local SIM card is the best way to have cell service in Nepal. There are 2 cell providers – NCell and Nepal Telecom
Nepal Travel Guide Orientation & Map
The Federal Democratic Republic of Nepal is one of the few countries in the world never to have been colonized
Nepal is a landlocked country located in South Asia, sharing borders with China/Tibet to the north, and India to the south, east, and west.
Nepal is a landlocked country, home to the highest mountain range in the world, the Himalayas, including the tallest mountain in the world, Mt. Everest, as well tropical lowland plains in the south.
Nepal is home to over 26 million people, most of whom call the chaotic, dusty capital, Kathmandu, their home.
Nepal Travel guide Visa Requirements
The first step for your trip to Nepal, you need to understand the Nepal Visa requirements- Click here to check the Visa requirements to Nepal.
The easiest way to obtain your visa is at the Tribhuwan International Airport upon your arrival in Kathmandu. Get your Nepal visa through iVisa if you don't want to fill out the forms yourself.
Otherwise, you can get your Visa to Nepal at the immigration entry point at the border of India or Tibet. The average pricing for the visa are:
15 DAYS: $25 USD
30 DAYS: $40 USD
90 DAYS: $100 USD
Flights to Nepal
There is a selection of airlines that offer flights to Nepal but the main ones are Virgin, Air India, Jet Airways, and Turkish.
Most people book tickets through to Kathmandu – Tribhuvan International Airport (TIA), but you can also make your own way to a major regional air hub such as Delhi, and arrange transport from there.
Airfares depend on the time of year, but timings of the high, low, and shoulder seasons are calculated differently by each airline, and may not always coincide with tourist seasons.
Most airlines consider the high season to be summer and the period around Christmas; the low season is winter (excluding Christmas), while spring and autumn may be considered low or shoulder season, depending on your route. High-season prices from both the USA east and west coasts are around US$1500–2000.
I recommend you browse and compare prices for the BEST DEAL with Expedia or Skyscanner to find the best options for flights. Check Skyscanner Flights Check Expedia Flights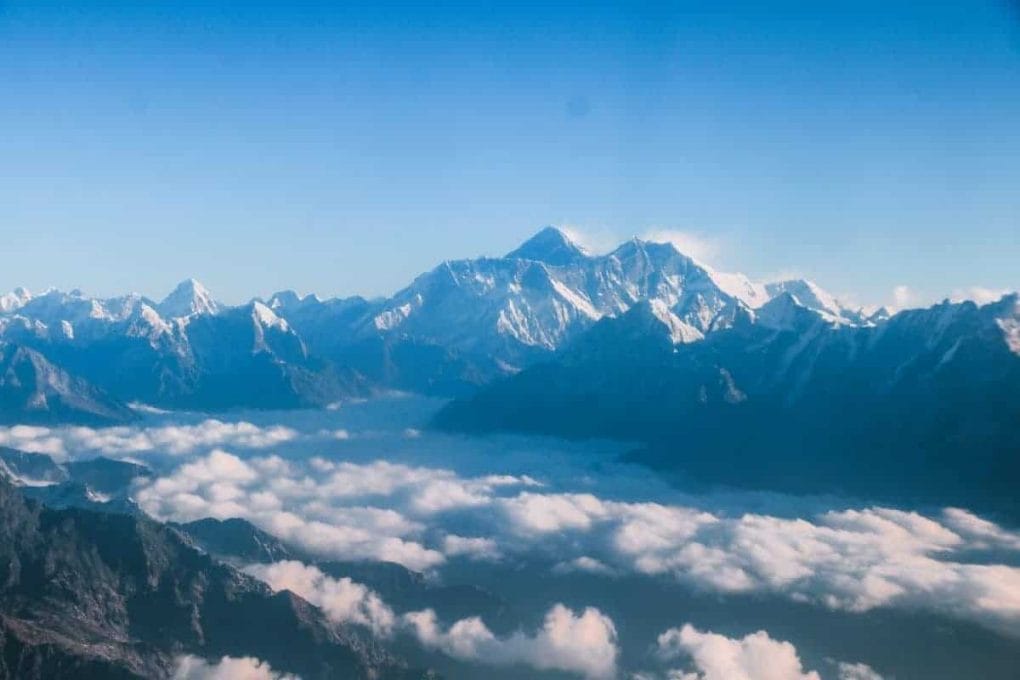 Nepal Travel Guide Independent & Orgaznized Tours
I mostly travel independently. But of course, there are some expectations when a guide is required, or the logistics are unfeasible to go by myself.
If you are traveling on a budget, the good news is that it is possible to explore Nepal independently – it only requires some research, planning, and physical preparation in case you are planning to go on a hiking.
I explored Nepal with a private Travel Guide from Epic Adventures and I had an amazing experience, as they took care of my whole trip in Nepal.
I got to explore Kathmandu & Pokhara, hike the Annapurna Base Camp, go on the Everest Base Camp with the helicopter experience and have a very unique experience at a Rural Homestay in the Himalayas all with my very experienced guide – including transportations, hiking permits and book of my accommodations.
I have great news for you! Paula Pins the Planet readers get a special offer for a Private Tour in Nepal or a Guided Hiking in the Himalayas. Request your special price below, and I will send directly to your email, an awesome Promo Code for your discount!
In some cases, you will want to join a group tour or even cases where you are required to hire a guide, such as The Annapurna Base Camp. But the group tours, or even a private guide, are very affordable in Nepal. Make sure you use reliable sources, and verified tours at tour companies such as GetYourGuide or Expedia.
Places to visit in Nepal
Nepal is small – to be the exact US is 67 times larger than Nepal – but it is a country but packed with amazing places to visit and some of the best places to hike on the Planet!
KATHAMANDU
The capital of Nepal is a typical busy city, with pollution and traffic. But still, a fascinating place to visit including the Boudha Stupa, Asan Market, and Swayambhunath.
POKHARA
Pokhara is Nepal's number 1 adventure destination and the gateway to treks in the Annapurna Region, with plenty of entertainment like boating, hiking paragliding, and valleys.
LUMBINI
Lumbini is the Buddha's birthplace, one of the world's most important spiritual sites, and attracts Buddhist pilgrims from around the world
CHITWAN NATIONAL PARK
In the southern region of Nepal, the jungles await you with wildlife experiences. Here you can see the Royal Bengal tiger and watch the one-horned rhinos roam free.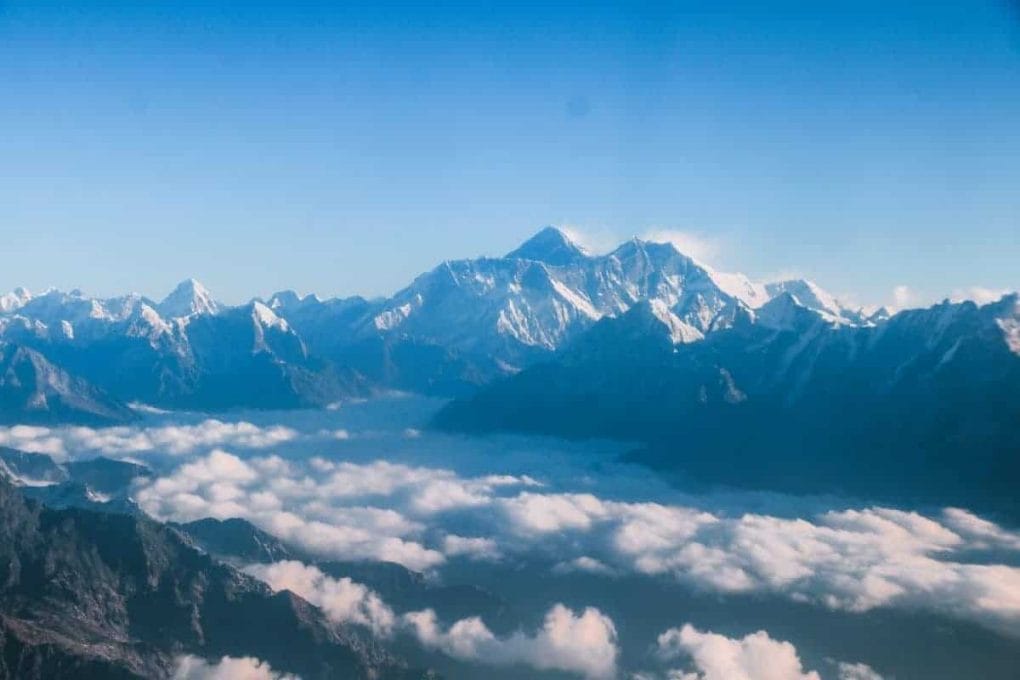 EVEREST REGION
Located in the northeastern province of Nepal, this region has vast glaciers, icefalls, the highest mountains, deep valleys, precarious settlements, and hardy people challenging the harshest conditions in the thin air of high altitude.
ANNAPURNA REGION
The Annapurna region is the most diverse and popular trekking area in Nepal. Views of lush farmland and natural forests and snow-capped mountains, and encounters with many ethnic communities
Nepal Trip Cost
Let's talk about Nepal Trip Cost now – and the good news is that prices in Nepal are quite affordable. But as I always say, it will depend on your travel style.
Nepal Trip Cost in The City
You can spend as little as US$20/day per person if you choose to stay at a Hostel and cook your own food. If you choose to stay at a 3-star hotel and eat at local restaurants, it can cost you an average of US$50/day per person.
Nepal Trip Cost to Go To The Himlayas
Keep in mind that most likely you will be traveling around the country. Most people go hiking in the Himalayas (far from Kathmandu), and you will pay for transportation to get there. To take an 8-hour bus ride from Kathmandu to Pokhara costs US$25 per person or you can choose a 25 minutes flight for US$120.
Nepal Trip Cost to Go Hiking
While trekking, you will have expenses with the lodges which can be as cheap as US$5 per day, plus an average of US$7 per meal. Hiring a porter will cost approximately US$10 per day and if you have a guide, prices can vary. You will also need to pay for everything else: hiking permits, liters of water (no bottles), Wi-Fi service, hot shower, hot tea, etc. Once you reach the summit, you can decide to take a helicopter flight back to the city if you don't want to hike back, but this will add to your budget.
Average Prices per Day/ 2 People
$ 100 per day/for 2 people
ACCOMMODATION $50
FOOD $30
ACTIVITIES $20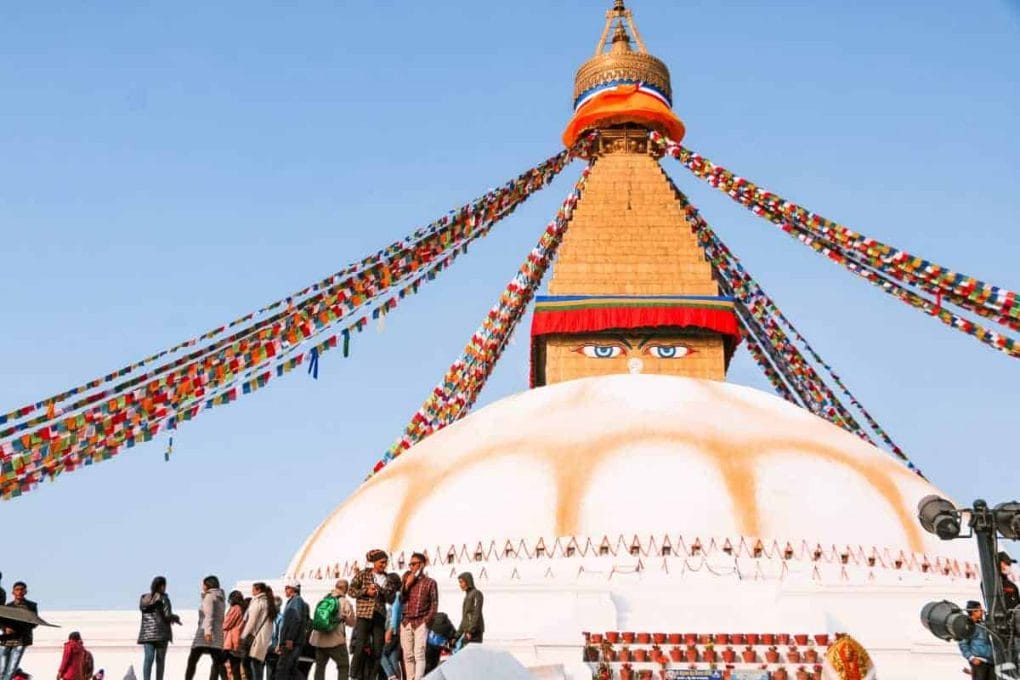 Getting Around & Transportation Trip to Nepal
Car Rental in Nepal
I traveled by airplane and by car during my trip to Nepal and I don't recommend renting a car in Nepal. The roads can be chaotic and take too long to go from one place to another, so my first option was to fly to save time.
The pavement stops at the city limits, after that the roads are pothole-filled, dusty, dirt paths. The big cities are pretty much walkable, and I walked almost everywhere in Kathmandu and Pokhara. Check Rental Cars Deals Check Expedia Rental Cars
Public Transportation in Nepal
There is no train or reliable public transportation in Nepal (other than buses). But if you are going to rely on buses in Nepal, be prepared to take a long time even for short distances.
Kathamandu is only 125 miles (200 km) apart, but the bus ride takes at least around 5-6 hours. The same journey takes around 35 minutes by plane, and the prices are very affordabel.
Taxis in Nepal
It is easy enough to take a cab in Nepal, but you will need to negotiate before you get in, as they will try to charge you much more. The price can vary during the time of the day and also, depending on where you are going or coming from. Note that there is no Uber in Nepal.
Nepal Travel Guide Accommodation
I used a mix of hotels in the cities, tea-houses during my trekking and homestay in the rural areas.
The accommodations in Nepal are generally cheap and you have many options to choose from. It will depend on your preference and budget.
When you are visiting the Kathmandu and Pokhara, you will have many options for hotels, hostel or private rooms. While hiking in the Himalayas, you will stay in tea houses along the way.
BEST ACCOMMODATION OPTIONS IN KATHAMNDU:
If you are staying in Kathmandu, the best area is around Thamel, but keep in mind that the area can be noisy and very busy
---
BEST ACCOMMODATION OPTIONS IN POKHARA:
A good area to stay is around the lake, as it is walking distance from the city center, shops, restaurants, bars, etc. There are so many options for hotels in Pokhara, as it seems that each year dozens of new hotels open.
---
ACCOMMODATION OPTIONS IN THE HIMALAYAS
During your hiking in the Himalayas you will have options of lodges or tea houses to stay. They are normally 3-4 hours apart and clustered together.
During the high season you will need to book in advance as it gets busy and you may not find a room. They are normally very simple and offer a basic stiff mattress and warm blanket for you to spend a night during your hiking.
The accommodations are very basic, the walls are thin and the rooms don't have heat. Typically you will have 1 outlet and 1 light bulb with 2-4 beds per room. A few rooms have bathrooms in the room and some lodges offer a gas heated shower.
Lodges also have a main room/dining area. The main room is where people gather in the evenings to eat their meals and their share stories from the day. The main room is the warmest place to be in the evening. The lodges all offer basically the same menu (see below), and Wi-Fi is often available for a small fee.
Nepal travel guide What to Pack
I visited Nepal during winter time, and it was cold in the morning and evening, with more comfortable temperatures during the day. The rule of what to pack for Nepal is layers.
Also, Nepal is a very religious and conservative country, therefore consider this when you are packing and dress conservative.
Portable Battery Pack: This battery last up to 7 phone charges
Sarong: For a multi purpose cover up
Water Purifier Steripen: It sterilized a liter of water in 90 seconds
Portable water bottle: Remember to bring and drink a lot of water
Trekking Poles: If you are considering to hike in Nepal have hiking poles, as they do make hikes easier and your recovery time shorter
First-aid kit: Remember to pack kit for Hiking in Nepal
Day-Backpack: This is very handy for any hiking.
Wear sturdy shoes for hiking: The most important thing is to protect your feet and avoid twisting your ankle and get injured. I recommend investing in a good hiking boots brand such as Teva, Salomon, or even Keens.
Moisture-wicking clothing: These clothes help to pull the sweat away from your body and stay cool and dry during your hiking such as light hiking pants & long sleeves shirts.
Warm-Layers: Early morning or late night can get cold so it is important to bring layers, a lightweight puffy jacket is a must!
Hiking Jackets: You will wear one them a lot!
Travel Tips Nepal Weather & When to Go
June is the hottest month in Kathmandu with an average temperature of 73°F (23°C) and the coldest is January at 49°F (9°C) with the most daily sunshine hours at 12 in April.
The wettest month is July with an average of 325.3mm of rain. The morning and night are cold and the days are warm when sunny.
Nepal is a country of extremes. The low-land plains of the Terai can have tropical temperatures. The Himalayas can get to sub-zero temperatures, but the sunshine can bring some warmth during the day, even in the mountains.
October and December – This is the best time to visit Nepal as the skies are generally clear and the views spectacular. The weather remains dry until about April.
January and February – can be very cold, especially at night, but will reward you with incredible panoramas and quieter trekking trails as there are fewer visitors
From May, heat and humidity levels build until the monsoon rains arrive in June and the clouds obscure the glorious mountain views.
Travel Tips Nepal Safety
I found Nepal a very safe country to visit. I didn't see any signs of violence during the time I was visiting.
I even had an episode where I forgot my laptop at the lodge at the Annapurna Base Camp, and I just noticed the next day. My guide was able to contact the person in charge of the lodge , and my laptop got rescued by helicopter and got to the city before me.
The only annoying thing I found in Kathmandu are the guys selling drugs in the streets – not only at a night time. Every country you will see this around the tourist areas, but I found that in Kathmandu it was more than any other place. They are not aggressive and whenever you deny, they will leave you alone.
If you are wondering if you need Travel Insurance to Travel in Nepal, the answer is YES! You absolutely need travel Insurance to travel in Nepal. Request a quote below, and you will be surprived how cheap is to have your trip covered and travel safely.
Travel Guide Nepal Food
The cities offer a great variety of restaurants and dishes. From local cuisine, to Indian to Western.
The food in Nepal is very good as they use a variety of unique spices. I was also surprised by the large variety on the menu in the lodges during the hiking; I didn't expect to have so many options.
You also have an option to try the Nepal Cooking School to learn more about the amazing flavors of Nepal
Dal Bhat –Dal is a soup made of lentils and spices, served over boiled grain, and Bhat is boiled rice. These two ingredients are accompanied with vegetable curry and tarkari. Condiments are usually small amounts of extremely spicy pickle which can be fresh or fermented.
Momo –is one of the most popular dishes in Nepal. Momos are usually steamed dumplings, with a filling of meat or vegetables. It becomes succulent as it produces an intensively flavored broth sealed inside the wrappers and served with a curry dipping sauce.
Nepali pizza – Very simple, but makes a great meal especially at night after our hike. A simple homemade dough with cheese and tomato is popular in Nepal and covered with cow or yak cheese.
Breakfast – Nepali people usually do not have breakfast, so keep in mind that if you are in a non-tourist area, you will only have coffee or tea options. But if you are in the city you can find great cafes with pastries or find a continental or American breakfast pretty much everywhere, including during the hiking at the lodges.
What else – Indian cuisine has a huge influence in Nepal and you can find a large variety pretty much everywhere. I did miss my greens, as I am very big on salad and in Nepal you don't have the option for fresh green salads. I also avoided eating meat, as they are not very big on red meat. I did try some dishes with chicken and fish and they were all delicious.
Travel tips to Nepal for Adventure Travelers
Nepal offers a huge variety of outdoor activities for everyone's taste and a paradise for Adventure Travelers.
Being the best mountaineering destination in the world, you can choose from many options for hiking from a few days, to a few weeks. It will depend on the amount of time you have and the level you are willing to hike.
Nepal also is popular for: canyoning,
Rock climbing,
Mountain biking,
Mountaineering,
Whitewater rafting
Paragliding.
Nepal Travel Guide Photography & Eletronic Equipments
We all know that Iceland is a very unique and magical place. It is impossible to not take many pictures and want to capture the amazing moments while traveling around Iceland.
Therefore, do not forget to bring your camera equipment with you:
Nepal Travel Guide final thougths
During planning your trip to Nepal, make sure you do some preplanning, research, and understanding what you are looking for will help make your travels far more successful and safe.
Make sure you have the places you want to visit highlighted. Nepal offers amazing things to do and explore. You can visit my Travel Planning and print the easy 10-steps to plan an international trip.
Below are the 8 ESSENTIAL STEPS for planning your trip to Nepal:
DECIDE HOW MANY DAYS YOU HAVE AND WHAT YOU WANT TO VISIT: Depend on how many days you have to explore Nepal, you can visit the main cities of Kathmandu and Pokhara, and if you have more time you can add a trekking in the Annapurna Base Camp or Everest Base Camp.
BUY A GUIDE BOOK: During planning your trip to Nepal, an excellent resource is to buy an Nepal Travel guidebook. They have tons of great information on main attractions, places to stay, and many curiosities about Iceland's culture.
CHECK VISA REQUIREMENTS: Get your Nepal visa through iVisa if you don't want to fill out the forms yourself.
BOOK YOUR FLIGHT: There are great options to fly direct to Iceland. I recommend you browse and compare prices for the BEST DEAL with Expedia or Skyscanner to find the best options for flights.
BOOK YOUR ACCOMMODATION IN ADVANCE: Make sure you book your accommodations in advance to take advantage of the best prices and best options. I recommend Booking.com as it has a great policy of free cancelation.
BUY TRAVEL INSURANCE: Wherever you go or do during your travels, don't travel anywhere in the world without travel insurance; the unexpected can, and often does, happen. I strongly recommend reliable travel insurance through World Nomads
START PACKING: It will depend on when you go to Nepal to pack accordingly. Check my recommended packing list.
BE A RESPONSIBLE TRAVELER: Responsible and Ethical traveling is REALLY IMPORTANT. Check my complete guide
BOOK ANY TOUR IN ADVANCE: There are great options for group or private tours in Nepal. I recommend booking through Epic Adventures Nepal and request your discount code above.