This Lake Como Itinerary takes you to the best of this idyllic destination in Northern Italy's Lombardy region, with shimmering blue lake sitting at the base of the Alps. From luxurious resort and exotic villas, to stunning natural vistas, this itinerary is perfect for anyone visiting Lake Como from 1-3 days Itinerary!
If you're planning a vacation trip to Italy, this Lake Como itinerary should certainly be added to the places you intend to visit. Lake Como is one of the most beautiful landmarks in Italy, with many attractions to discover.
But the good news is that if you are short on time, you can visit Lake Como in as short as the 1-day trip from Milan, or if you have more time, I recommend at least 3 days to get the best out of your trip. You can also add Lake Como to your Milan Itinerary.
For centuries, Lake Como has been a glamorous resort for the rich and famous, but catching a glimpse of your celebrity should be the least attractive thing in Italy's most famous lake. The lake itself is shaped like an inverted 'Y' and comprises picturesque little towns set against imposing mountains, rolling hills, and dramatic natural scenery.
And to get you started, I've put together a very comprehensive Lake Como itinerary from 1 to a 3-day trip.
With this Lake Como itinerary, you will explore some of the most beautiful Lake Como towns, tour magnificent villas, and ancient architecture, wander through exquisite gardens, take a scenic funicular ride and see the very best of Lake Como. Plus, find the best places to eat, where to stay in Lake Como, and very helpful tips to plan your visit.
You may also enjoy these articles: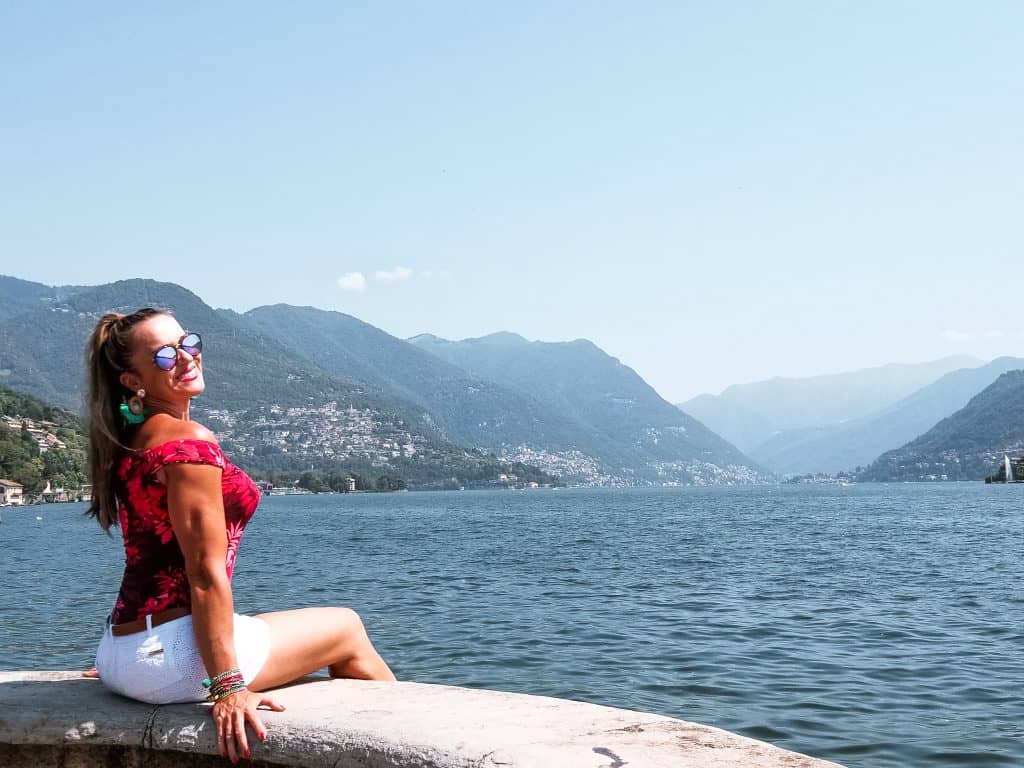 Lake Como Itinerary Overview
Before you jump to this amazing Lake Como Itinerary, let's talk about trip planning and make sure you are prepared for the best experience.
I highly recommend coming to Lake Como with a well-defined itinerary of the top things you want to visit, see and do, in order to maximize your time here.
Make sure you choose accommodation in a good area, where you can easily walk around and explore the main attractions. Making your reservations in advance is also part of a well-planned visit, as Lake Como is a popular destination and it may be hard to find last-minute accommodations.
Lastly, I recommend booking your tickets to attractions in advance as the city is very busy throughout the year. The advantage of a guided tour is that you will spend a short time in line, and with a local guide, you will learn and appreciate Lake Como history better.
LAKE COMO ITINERARY OVERVIEW:
Day 1: Explore Lake Como city
Day 2: Tour Lake Como, Visit Bellagio & Varenna
Day 3: Explore Menaggio & Tremezzo
READ NEXT: Milan 2-day Itinerary, a perfect weekend in Milan
The easiest way to get to Lake Como is from Milan. The southern shore of Lake Como is about 51 km (32 miles) from Milan, and the journey is usually a 40-minute train ride. To get to Lake Como from Milan, take a train from Milano Centrale to either Varenna-Esino or Como San Giovanni. The trains run every hour, check the schedule and tickets here.
This isn't the only option available, there are a host of others, such as taking the bus or renting a car to make the drive yourself.
I have a detailed post on how to travel from Milan to Lake Como where you can find all the information you are looking for.
READ NEXT: How to get from Milan to Lake Como by train
Best Places to Stay in Lake Como
Here is the best collection of best places to stay for your Lake Como Itinerary!
Lake Como is shaped like an inverted 'Y' and comprises picturesque little towns set against imposing mountains, rolling hills, and dramatic natural scenery. If you are wondering where is the best place to stay in Lake Como, you cannot go wrong choosing one of the 4 towns: Como, Bellagio, Varenna, or Tremezzo.
You can also choose any of the smaller villages around the lake, but keep in mind that you would need to rent a car to get around. I have selected the best hotel options, all with great locations, very high ratings and that fit all budgets:
GREAT VALUE: Ostello Bello Lake Como
If you are looking for great value accommodation, Ostello Bello Lake Como is a great option. Every room is fitted with a private bathroom and shower and free Wi-Fi. Excellent location, close to the Ferry Terminal, and the Cable Car.
---
BOUTIQUE HOTEL: Hotel Villa Flori
This restored 19th-century villa is set on the western shores with amazing views of Lake Como. It offers elegant rooms, a private park and you will love the Venetian stucco work and frescos.
---
BEST RATED: Como Lake Suits
This hotel has an excellent location with the best views. Very close to the Broletto and the Como Cathedral, the apartments have a balcony with lake views, a seating area, a satellite flat-screen TV, a fully equipped kitchen, and free bikes so you can easily explore lake Como.
---
TOP LUXURY: Mandarin Oriental Lago di Como
Now if you are looking for luxury, you cannot go wrong with the Mandarin Oriental. The rooms are elegantly decorated with 2 stand-alone villas, in Blevio. With a fine restaurant, free indoor and outdoor pools, free parking, and vast gardens. The wellness center includes 2 massage rooms, and 2 private Spa.
Lake Como Itinerary: 1-3 Days in Lake Como
DAY 1 Lake Como Itinerary: Explore Como
Take your first day on this Lake Como itinerary to explore its biggest town. Como is a magnificent city known for its Gothic Cathedral, lakefront promenades, delightful streets, stunning mountain views, scenic funicular rides, and amazing piazzas.
The Piazza Cavour is the town square with many restaurants and cafés, Piazza San Fedele was originally a wheat market and hosts the beautiful 12th-century Romanesque church; Basilica di San Fedele.
1. Marvel at the Como Cathedral
The Como Cathedral is one of the most magnificent buildings to behold on the entire Lake Como. This 14th-century Roman architecture is nothing short of awe-inspiring and spectacular. The Catholic Cathedral is an exotic structure with stunning gothic designs, a tour of this impressive Cathedral will most certainly leave you in awe.
2. Stroll through the Piazza del Duomo
A stroll through the beautiful streets of Como city and a tour of the Cathedral wouldn't be complete without a visit to the remarkable trade center; Piazza del Duomo. And just by the Cathedral and the Bell Tower is the ancient Broletto, an old town hall that was once used for hosting public assemblies.
3. Explore Villa Olmo
A 10-minute walk from the Piazza will take you right to the historic Villa Olmo and its brightly colored gardens. The Villa Olmo is an exotic structure that dates back to the 1780s, it has a park and exhibition hall, plus a pool and café.
This was one of my favorite places to visit in Lake Como, and if you like photography, you can spend a couple of fo hours exploring and taking great photos.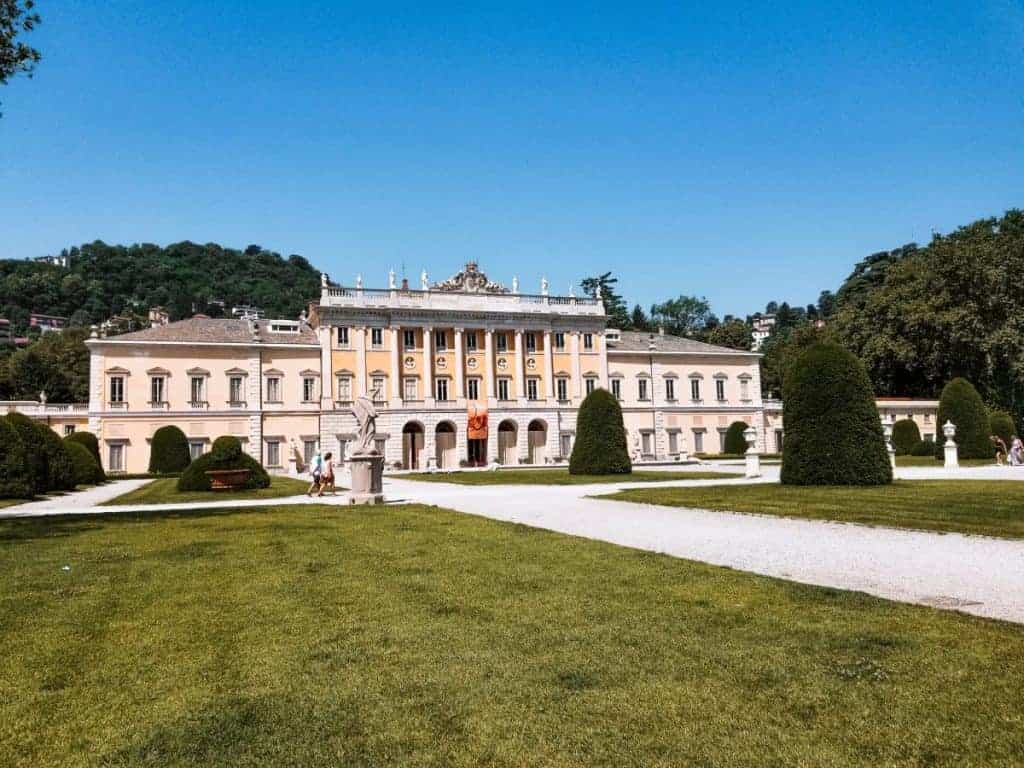 4. Visit the Museum of Silk
If you love history and don't mind learning something new, then you should totally visit the museum of silk. Here you will learn about the amazing history of Como's silk industry and the various stages of silk-making; from silkworms to heritage looms and clothing samples.
5. Ride the Como Funicular
End your tour of the town with a scenic 7-minute funicular ride up to the mountain town of Brunate. This ride will take you up 700 m (2,300 ft) above sea level, with jaw-dropping views of gorgeous landscapes, the experience is exhilarating.
READ NEXT: The most beautiful towns in Tuscany
DAY 2 Lake Como itinerary: Visit Bellagio & Varenna
The 2nd day of your 3-days Lake Como Itinerary will probably be the busiest, and I have given you excellent details of some of the most fantastic places to visit in Lake Como.
I suggest that you start your day 2 with a boat tour of the astounding Lake Como. The best place to begin your boat tour is at Bellagio, and prepare to momentarily lose your breath during the tour. The views are splendid!
1. Stop at Bellagio
Your next stop should be the beautiful and compact town of Bellagio. This town is small and studded with delightful cobblestoned streets, colorful houses, lovely little shops and restaurants, and wonderful views of the lake. Bellagio can be toured within an hour, and while you're there, here are my suggestions of what to do:
3. Wander the streets of Bellagio
Bellagio is known for its narrow pedestrian-only streets, which are perfect for casual strolls and aimless wander. Via Giuseppe Garibaldi is the only main road in Bellagio, with very colorful buildings and dozens of shops to explore.
4. Visit the Basilica
At the heart of the town, you will find the picture-perfect Piazza del Chiesa which houses the Basilica of San Giacomo, a historic Roman Catholic Church dating back to the 12th century. Marvel at the gorgeous interior of the Basilica.
5. Admire the beautiful Villas
Villa Melzi and Villa Serbelloni are two elegant structures you wouldn't want to miss. Villa Serbelloni is a stunning 15th-century luxury hotel, you can gape at the exterior or book a tour and walk through the 50 acres of park and garden. Villa Melzi is a historic property with an exotic garden that is open to the public. Take a refreshing walk through the garden and appreciate the colorful flowers.
6. Visit Pescallo
After reveling in the beauty of Bellagio, take a short 10 to 15 minutes walk through a stepped pathway from the Bellagio town hall, and you'll find yourself in Pescallo; an incredible fishing village. Here you will be rewarded with charming lakeside views and a quaint atmosphere.
By now you should be hungry, and I recommend the La Punta restaurant for lunch.
7. Stop At Varenna
After Bellagio, your next stop should be the splendid town of Varenna. Varenna is a 14-minute ferry ride from Bellagio, it's a pretty lakeside village with many ancient structures to discover. Once in Varenna, here are some interesting things to do:
8. Tour the town center
Piazza San Giorgio is the town center and home to a magnificent 13th-century Romanesque and Gothic-style church, the Church of San Giorgio. Just opposite that, you will find the San Giovanni Battista, a smaller and much older church. San Giovanni Battista is the first church built in Varenna and one of the oldest in Lake Como.
9. Visit the Villa Monastero
Villa Monastero is a stunning lakeside complex that dates back to the 12th-century and was originally used as a Cistercian convent. The property is surrounded by an enchanting botanical garden worth visiting. Within the villa is a historic house museum displaying historic furnishings from four centuries.
10. Wander the gardens of Villa Cipressi
A visit to Villa Cipressi should follow your amazing experience at the Villa Monastero. Villa Cipressi literally means "house of cypresses" and it's named so because of the beautiful ancient cypress trees in the garden. The entire villa is surrounded by a magical terraced garden, which is fortunately open for public tours.
11. Walk the lovers' promenade
The charming lakeside promenade with the suggestive name "Walk of Lovers" is very popular among tourists, and for good reasons. It's a scenic boardwalk built over the lake, with the shimmering waters of Lake Como to the left and rocky walls and a beautiful garden to the right.
12. Visit the former fortress
Castello di Vezio is a Medieval Castle in a strategic location with incredible vistas of the expansive lake up to the Alps. The beautiful hike to the castle is certainly worth it and rewards you with the best views of Lake Como. The castle dates back to the 11th century and is an important historic site. Explore the castle, take some impressive shots and relax at the hilltop café before calling it a day.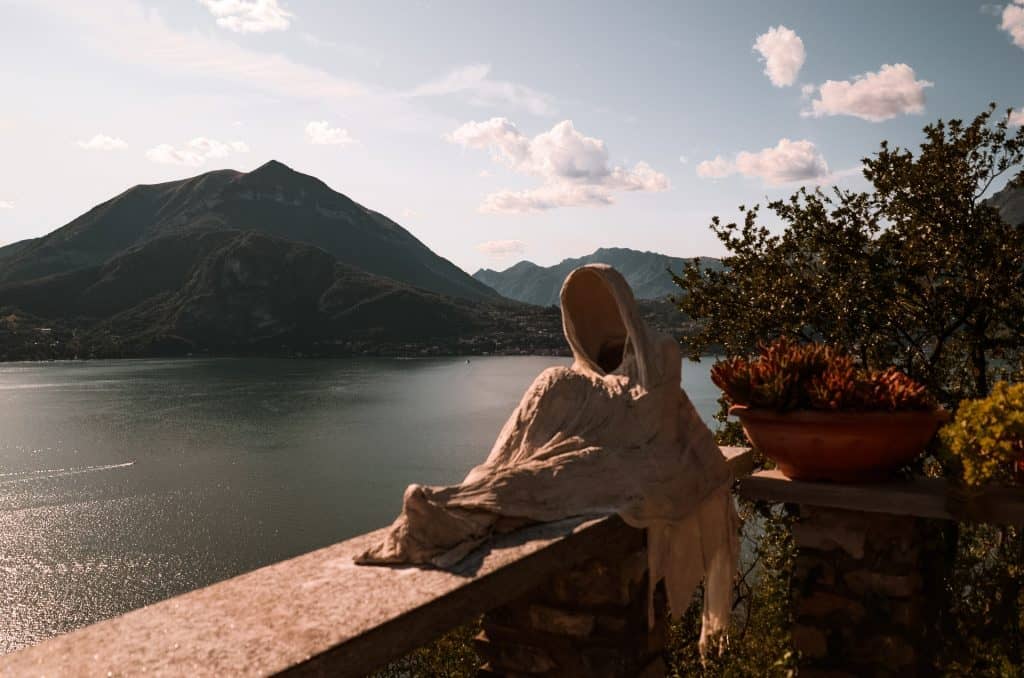 13. Stop at Orrido di Bellano
Orrido di Bellano is a hidden gem natural canyon with an old suspension bridge and a turquoise river flowing below. The scenic walk along a suspended walkway with the thunderous sound of the waterfall below is certainly worth it. From Varenna to Bellano is a 5-minute train, ferry, or taxi ride.
If you are planning to have dinner in Varena I recommend the Bar Il Molo.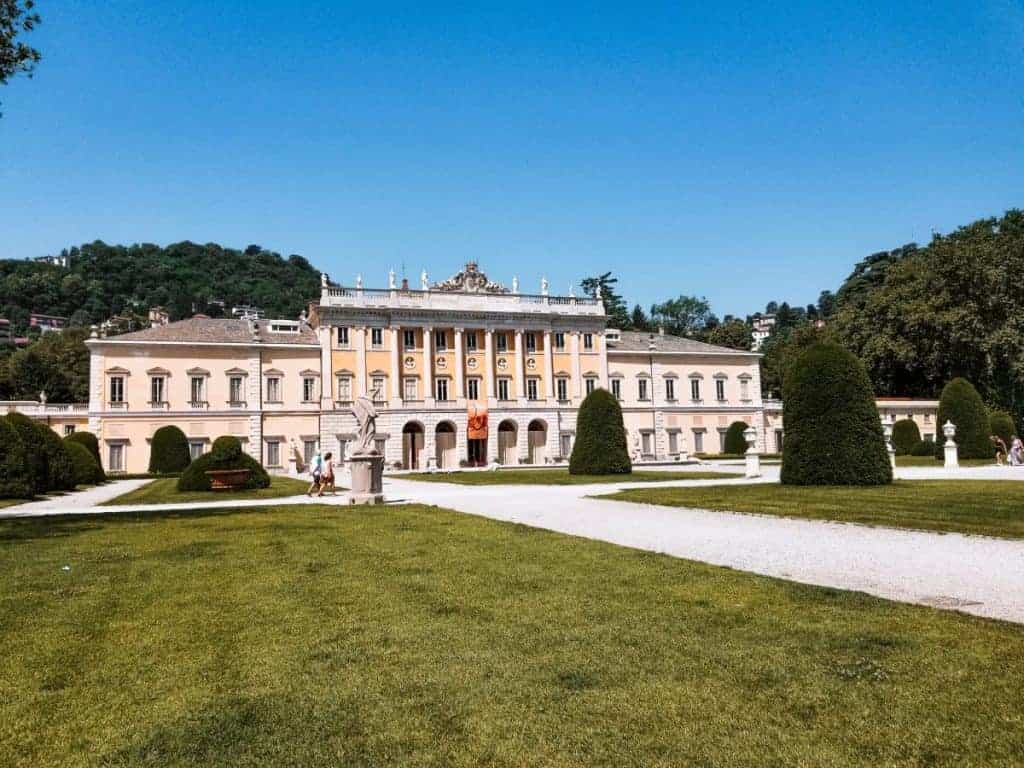 Day 3 Lake Como itinerary: Explore Menaggio & Tremezzo
On the 3rd and last day of your Lake Como Itinerary, I recommend that you take some time to explore Menaggio and Tremezzo.
Menaggio is an awesome historic lakeside town in Lake Como, it's one of the largest on the western shore of the lake. This beautiful town is best known for its quaint town square and an elegant lake promenade. If you find yourself in Menaggio, here's a list of what to do:
1. Wander through Via Calvi
Start your tour from Via Calvi and admire the small shops and boutiques along the street. Continue your stroll to the Church of Santa Marta, an ancient church that was renovated in the 19th century. Take your time to admire the interior of the church and the ancient paintings.
2. Visit the town center
Piazza Garibaldi, the town center, is the next place to visit. Enjoy the serene atmosphere with beautiful views of the lake. Feel free to check out as many of the shops and eateries as you can grab a coffee or ice cream while soaking in the beautiful views of the lake.
3. Chill at Lake Promenade
From the Piazza Garibaldi, proceed to the elegant lakeside promenade. This beautiful walkway is flanked by gorgeous flowers, lush green trees, and pastel-colored houses. Enjoy the amazing scenery and the soothing sounds of the lake.
4. Walk through the old town
Next, head up to the medieval part of the town. This part of Menaggio is higher up in the hills, and you will have to follow a stepped path and walk through narrow alleys and ancient buildings. Taking a walk through the old town of Menaggio is akin to taking a walk back in time. Finally, follow Via Strecium to take a walk over the Senagra stream and enjoy the sound of the cascading waterfall below.
5. Stop At Tremezzo
Tremezzo is a 9-minute bus ride from Menaggio, and that should be your next stop. Tremezzo is a beautiful lakeside town known for historic villas, the medieval Tower of Rogaro, and awesome views of the lake. Here's what to do in Tremezzo;
6. Visit the famous Villa Carlotta
Villa Carlota is a magnificent property with very gorgeous and expansive gardens. This property dates back to the 17th century and was originally built as a neoclassical villa. A walk through the gardens will leave up in awe of the amazing beauty of nature. But don't stop there, get inside the villa to wow at the collection of arts and masterpieces, and do a complete tour of the museum.
7. Stop for a cocktail at the Grand Hotel Tremezzo
The Grand Hotel Tremezzo is only a 4-minute walk from Villa Carlota and it is a great place to admire the views and to enjoy a cocktail at the T Bar – I recommend a Spritz here. This iconic hotel features a floating swimming pool,
8. Tour the Villa Balbianello
Villa Balbianello is a famous villa that has appeared in many great movies, including Star Wars and Casino Royale. This property is surrounded only by nature, a lush manicured garden, and a brilliant lake. You should definitely request a guided tour and discover all the intricacies of the villa.
Make sure you don't miss your ferry – the last one departs at 6:40 p.m. You can check the ferry schedule here.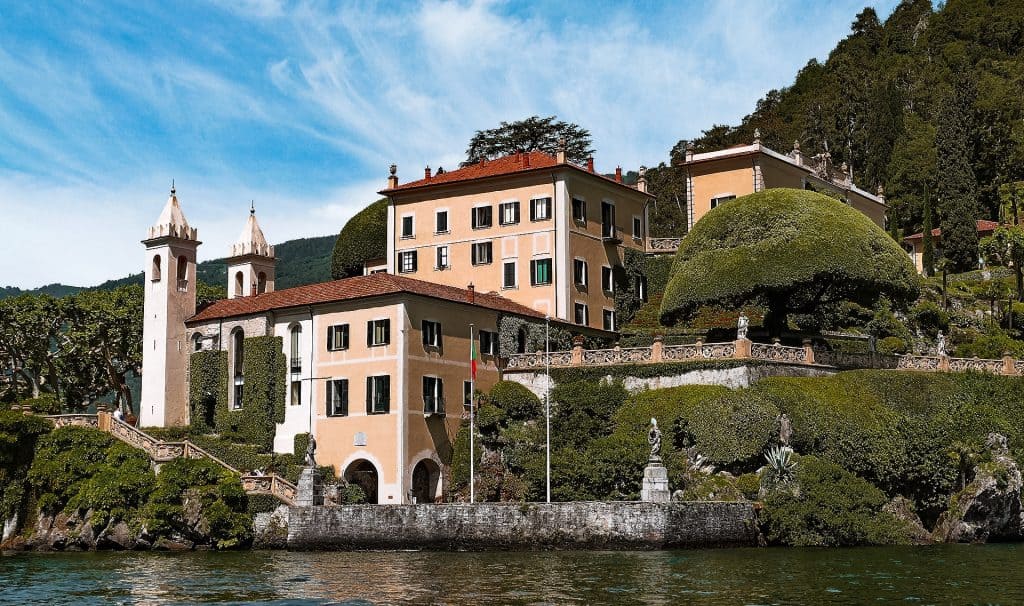 READ NEXT: 30 Most Amazing Landmarks in Italy
TRAVEL INSURANCE: SIMPLE & FLEXIBLE
I never leave my home without travel insurance which is designed to help cover your expenses if something goes wrong on your trip. Things can go wrong, and you don't want to get stuck paying tons of money if you get sick or have an accident without travel insurance.
World Nomads Travel Insurance has been designed by travelers for travelers, to cover their trip essentials. Especially if you are like me, travel insurance is ideal for adventurous travelers.
Travel smarter and safer – You can do your quick quote below and find out how little you can pay for the essential benefit of Travel Insurance for your next trip!
How to Get Around during this Lake Como Itinerary
To get the best experience during your Lake Como itinerary, you should be able to easily get around without any confusion. And in this section, I discussed all the different ways to move from town to town, discovering all the towns and the treasure they hold.
I have no doubt in my mind that you'll have a great deal of fun in Lake Come, so let's get started with making your exotic holiday as seamless as possible. Lake Como has both private and public transportation services, including boats, buses, ferries, trains, and rental cars.
Request a quote and get a 10% off your rental car when you book through this site. I use and recommend RentalCar because it is the most reliable rental car source, and it allows you to compare the prices of different places.
Best Tour Options for your Lake Como Itinerary
What to Pack for your Lake Como Itinerary
I visited Lake Como in July, and it is hot during summertime. If you are also visiting during hot months, think about light clothes and comfortable shoes to walk and explore during the day. Leave your pair of high heels at home, as the villages are hilly, and you won't need them.
Don't forget your sunblock, and sunglasses and consider a hat too.
For the evening, especially if you are planning to have dinner at one of the nice restaurants, you can think about a comfortable summer dress and sandals. Or if you are not into dresses, a pair of jeans and a nice top and a nice pair of sandals.
The climate can be mild in Lake Como, because of its location close to the Alps, so consider bringing a pashmina for the evening.
When is the best time to visit Lake Como?
Lake Como is a great destination all year round:
Summer: Between June-September is the high season, and you can expect to see large crowds, full ferries, and very busy restaurants. The weather is hot with temperatures in the upper 30°C.
Spring and Fall: Considered the shoulder season, with cooler temperatures and you can expect some rainy days.
Late Fall to early spring: The temperature is chilly and fewer crowds, but the ferries run less frequently.
Lake Como Itinerary Conclusion
Lake Como is so unique, and after many trips to Italy, I finally got the chance to visit it – and guess what? it didn't disappoint me. With incredible views, stunning architecture, and lots of history to explore, Lake Como is a must-visit in Italy.
I hope you enjoyed this Lake Como Itinerary and that this helps you to plan your visit. If you have any further questions, just leave me a comment below and I will be happy to answer.
If you are planning to visit Italy, you may also enjoy reading the following:
Follow + Share
If you found this guide useful, follow me on Instagram to stay up to date with my travels & Subscribe to my YouTube Channel to keep you with my workout videos.
I would love it if you could follow me on Pinterest and share this guide on my social media.
Plan your Trip
You can plan your trip with this easy guide and have access to the best services I recommend and get discounts here.